About This Event
All tickets on the floor & mezzanine are general admission, standing room only. Limited seating will be available on both the floor & mezzanine on a first come, first served basis.
--
This show currently has no COVID safety requirements for attendees. This is subject to change. If this changes we will be sure to update this page as well as notify all ticket buyers via email.
Artist Info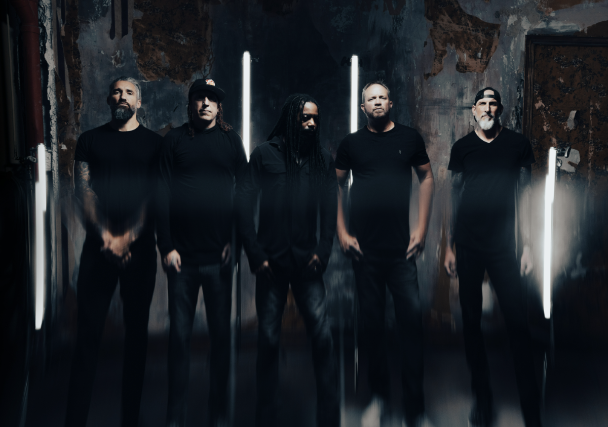 Sevendust
Under any and all circumstances, brothers depend on each other. Maintaining an unspoken, yet unbreakable bond for nearly three decades, Sevendust draw strength from one another on their thirteenth full-length and second release for Rise Records, Blood & Stone. The GRAMMY® Award-nominated Atlanta quintet—Lajon Witherspoon [lead vocals], Clint Lowery [lead guitar, backing vocals], John Connolly [rhythm guitar, backing vocals], Vince Hornsby [bass], and Morgan Rose [drums]—weather anything the world throws at them as a unit.
Not only do they stand strong together, but they also come out swinging as a raw, real, and relevant force.
"At this point, we've gone through all of the shit you can imagine," Morgan remarks. "We've been beaten down to the ground, left on the verge of bankruptcy, and robbed blind by people who were supposed to be taking care of us. We've dealt with divorces and addiction. However, music has been our way of leaning on each other through all of it. We find a way to work through everything. This band means more to me now than it ever did, because we built something really special and still put on a show worthy of being in the game."
"This is a bunch of guys who share a mutual respect and love," adds Lajon. "We grew up together. When we go in and write, it's a cool and magical experience. It was relevant then; it's relevant now. We always consider our fans family. Hopefully, Blood & Stone helps them."
Sevendust built a legacy out of records and stages left soaked in blood, sweat, and tears. Since their formation in 1994, they delivered three classic gold-certified albums—Sevendust [1997], Home [1999], and Animosity [2001]—and sold upwards of three million records worldwide. Seasons [2003], Cold Day Memory [2010], and Kill The Flaw [2015] each bowed in the Top 15 of the Billboard Top 200. The latter's lead single "Thank You" received a nomination in the category of "Best Metal Performance" at the 2016 GRAMMY® Awards, representing a career first. Along the way, they sold out countless shows around the globe and lit up iconic festivals such as Sonic Temple, Woodstock, OZZfest, and Shiprocked! 2018's All I See Is War earned some of the best reviews of the group's career as Associated Press claimed, "The band does what it wants and deserves as many ears as possible." Energized by a particularly prolific period, Sevendust reconvened at Studio Barbarosa with Michael "Elvis" Baskette [Alter Bridge, Trivium, Slash] during late 2019. Fresh from All I See Is War and respective solo outings, Clint and John literally fired on all cylinders.
"John had just done a bunch of writing for Projected, and Clint had just recorded his solo album, so they were both in writing mode," recalls Morgan. "The riffs were developed. It had already started to take shape very early. With those guys being so prepared, the writing was seamless. Instead of getting tapped out, they got even better."
Sevendust throw a curveball by introducing Blood & Stone to the world with a haunting, hypnotic, and hard-hitting cover of Soundgarden's "The Day I Tried To Live." It preserves the spirit of the original while bringing a sense of stark soul.
"I have no idea why in the fuck we tried to bite that one off," laughs Morgan. "Chris Cornell is arguably the greatest singer of many generations, and we're all big fans. Overall, we did our homework and stayed close to the original, but Lajon killed it."
"Clint and I actually went to see Soundgarden right when Sevendust was starting as a band," recalls Lajon. "It was an experience I'll never forget. Chris Cornell had a fearless energy live. It was just incredible. They're an inspiration to all of us and people everywhere. I came in with a humble heart and just did what I do."
Meanwhile, the album opener and single "Dying To Live" tosses and turns between crushing distortion and harmonic squeals before Lajon carries one of the band's catchiest choruses to date. Tight grooves give way to whispers on the bridge before screams take hold again.
"It's one of those heavy-hitters," grins Lajon. "With what's been going on in the world, it's a song that really punches."
"'Dying To Live' has everything the band embodies," adds Morgan. "There are songs like 'Denial' we all agreed on. 'Dying To Live' is another one. It's exactly what we're about and might be the most profound tune we've come up with in a long time. There are hooks all over it!"
Clean guitar slips into a head-spinning bounce on "Blood From A Stone." The track subsides on a sweeping refrain, "Sorry for the things that I have done. You took it from me like blood from a stone."
"It's any relationship where the other person wants to suck every drop out of you," Morgan continues. "It's something everyone has been through."
Elsewhere, an airy guitar lead resounds as "Criminal" runs towards a striking vocal run culminating on a question, "Who's our hero now if I'm so criminal?" From the bludgeoning "Love" to the delicate delivery of "Kill Me," Blood & Stone highlights the scope of Sevendust's signature style. "Wish You Well" leaves off on a unified statement, "We pull together through the worst."
"We wanted to end with something powerful," affirms Lajon. "It felt like the perfect conclusion."
In the end, the brotherhood at the heart of Sevendust burns brightly.
"When we do anything, it's real, and it's from the heart," Lajon leaves off. "We mean every word we write. I can't wait for the Sevendust family to hear Blood & Stone. I hope it opens more doors. I never take this journey for granted. I can't wait for what's next."
"We have the most loyal base of supporters I've ever seen," Morgan concludes. "They've been here for so long. We delivered a solid record. We're a blue-collar band, and we're going to grind it all the way out. I know our loyalty will keep us where we are." —
Rick Florino
, June 2020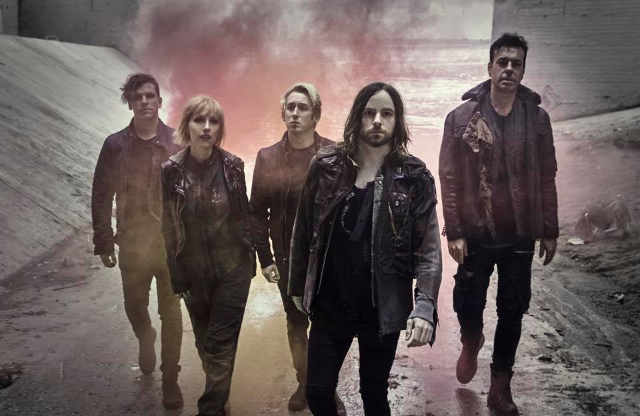 All Good Things
All Good Things creates cinematic epic rock that celebrates the underdog, lifts the fallen, and all out gloats in victory. Pairing post apocalyptic pump-up rock with powerful lyrics, AGT crafts a massive, bombastic sensory assault of anthemic heavy rock, summoning vistas associated with gaming or blockbuster movies.
In a masterful feat of reverse-engineering, the LA-based collective has become a potent musical force in the opposite fashion from how most groups get their start. "We were just having fun writing monster rock songs that got us hyped, hoping they might get used in games and movies," says Dan Murphy (vocals, guitar).
AGT has since been featured in thousands of TV shows, games, films and ads worldwide. When music started being released online, increasing numbers of dedicated fans fell in love with the fist-pounding, high-energy rock anthems and demand grew. "That's when we said 'Wow, people are really into this,'" says Andrew Bojanic (guitar, vocals). "The music is inspirational and motivational," adds Liz Hooper (bass, keyboards, vocals). "Our fans kind of honed that whole aesthetic, theme and imagery just with their feedback."
AGT's relationship with their fans is fully apparent on their forthcoming album, an epic collection tied around a common theme of surviving the apocalypse. It was inspired by the many games and films that AGT have placed their music, paying homage to the escapism those worlds provide listeners, one that's more important today than ever.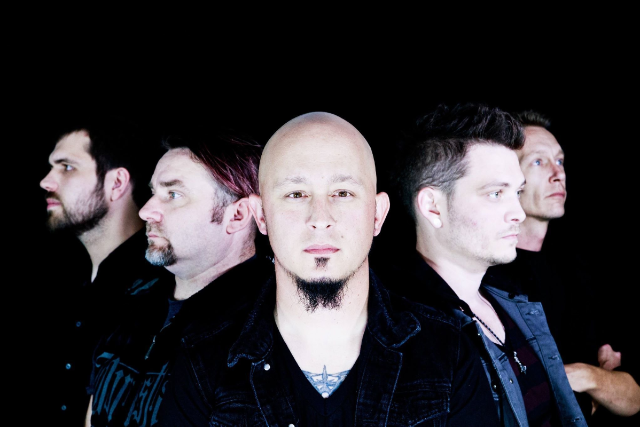 Deepfall
DEEPFALL conjures an enveloping storm of carefully crafted hard rock that strikes the soul with stinging honesty. 
 Cutting to the bone with soaring instrumental passages, spirited choruses, and precisely placed breakdowns, the band thrives in the expanse of rock 'n' roll's vast sub-genres. 
 Masterfully capturing thematic darkness, the band leaves a sonic trail of scorched post-apocalyptic earth behind its musical machine, blazing a path through the heaviness of life with an equally heavy response. 
 Situated in Greenville, Michigan, the group's current lineup, which began to take shape in 2015, is comprised of Rich Hopkins (vocals/guitar), Jim Sully (drums), Tim King (keyboards), Anthony Schnobel (lead guitar), and Taylor Brandt (bass). 
 In a short time, DEEPFALL has carved its place in the American rock scene with broad, muscular soundscapes forged in the studio and resurrected onstage. The band's latest release, "Awaken" employs a signature brand of soulful songwriting rounded out by an unapologetic combination of surging guitars, rattling bass, mesmerizing keyboards, heavy drums and Hopkins' roaring lead vocals. 
 Behind the veil of these ferocious soundscapes, DEEPFALL emerges as an outfit of determined musicians with a deep love for their craft and a hope to connect with listeners through engaging story-driven rock.