About This Event
Bring your mask and your best smile for a night of elegance and excellence as Opera in the Rocks celebrates the opening of its 2022-2023 season with a Masquerade Ball. Guest will start the evening on the red carpet, followed by a cocktail reception and a wonderfully prepared culinary experience, curated by a local chief. Guests are sure to be delighted in the vocal excellence of opera superstar Denyce Graves. Recognized worldwide as one of today's most exciting vocal stars, Denyce Graves continues to garner unparalleled popular and critical acclaim in performances across four continents. USA Today identifies her as "an operatic superstar of the 21st century," and the Atlanta Journal-Constitution exclaims, "If the human voice has the power to move you, you will be touched by Denyce Graves."

Her career has taken her to the world's great opera houses and concert halls. The combination of her expressive, rich vocalism, elegant stage presence, and exciting theatrical abilities allows her to pursue a wide breadth of operatic portrayals and to delight audiences in concert and recital appearances. Ms. Graves has become particularly well-known to operatic audiences for her portrayals of the title roles in Carmen and Samson et Dalila. These signature roles have brought her to the Metropolitan Opera, Vienna Staatsoper, Royal Opera House, Covent Garden, San Francisco Opera, Opéra National de Paris, Lyric Opera of Chicago, Washington National Opera, Bayerische Staatsoper, Arena di Verona, Deutsche Oper Berlin, Opernhaus Zürich, Teatro Real in Madrid, Houston Grand Opera, The Dallas Opera, Teatro Colón in Buenos Aires, Los Angeles Opera, and the Festival Maggio Musicale in Florence.

Ms. Graves appears continually on the stages of leading theaters in North America, Europe, and Asia. Highlights have included a Robert Lepage production of The Rake's Progress at San Francisco Opera; the title role in the world premiere of Richard Danielpour's Margaret Garner at Michigan Opera Theater, followed by further performances at Cincinnati Opera, Opera Carolina, and Opera Philadelphia; the role of Charlotte in Werther at Michigan Opera Theatre opposite Andrea Bocelli in his first staged operatic performances; and the role of Judith in a William Friedkin production of Bartok's Bluebeard's Castle in her return to Los Angeles Opera, a role she has also sung Judith at Washington National Opera and Dallas Opera. Recent appearances include the world premieres of Douglas J. Cuomo's Doubt at Minnesota Opera and Terence Blanchard's Champion at Opera Theatre of St. Louis, as well as role debuts of Katisha in The Mikado at Lyric Opera of Kansas City and Herodias in Salome at Palm Beach Opera.
--
This show currently has no COVID safety requirements for attendees. This is subject to change. If this changes we will be sure to update this page as well as notify all ticket buyers via email.
Artist Info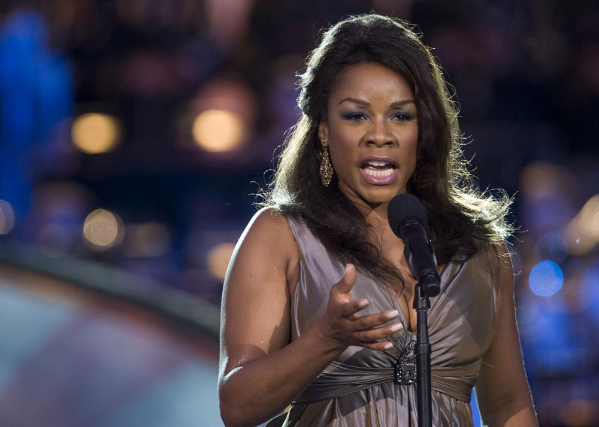 Denyce Graves
Recognized worldwide as one of today's most exciting vocal stars, Denyce Graves continues to garner unparalleled popular and critical acclaim in performances across four continents. USA Today identifies her as "an operatic superstar of the 21st century," and the Atlanta Journal-Constitution exclaims, "If the human voice has the power to move you, you will be touched by Denyce Graves."

Her career has taken her to the world's great opera houses and concert halls. The combination of her expressive, rich vocalism, elegant stage presence, and exciting theatrical abilities allows her to pursue a wide breadth of operatic portrayals and to delight audiences in concert and recital appearances. Ms. Graves has become particularly well-known to operatic audiences for her portrayals of the title roles in Carmen and Samson et Dalila. These signature roles have brought her to the Metropolitan Opera, Vienna Staatsoper, Royal Opera House, Covent Garden, San Francisco Opera, Opéra National de Paris, Lyric Opera of Chicago, Washington National Opera, Bayerische Staatsoper, Arena di Verona, Deutsche Oper Berlin, Opernhaus Zürich, Teatro Real in Madrid, Houston Grand Opera, The Dallas Opera, Teatro Colón in Buenos Aires, Los Angeles Opera, and the Festival Maggio Musicale in Florence.

Ms. Graves appears continually on the stages of leading theaters in North America, Europe, and Asia. Highlights have included a Robert Lepage production of The Rake's Progress at San Francisco Opera; the title role in the world premiere of Richard Danielpour's Margaret Garner at Michigan Opera Theater, followed by further performances at Cincinnati Opera, Opera Carolina, and Opera Philadelphia; the role of Charlotte in Werther at Michigan Opera Theatre opposite Andrea Bocelli in his first staged operatic performances; and the role of Judith in a William Friedkin production of Bartok's Bluebeard's Castle in her return to Los Angeles Opera, a role she has also sung Judith at Washington National Opera and Dallas Opera. Recent appearances include the world premieres of Douglas J. Cuomo's Doubt at Minnesota Opera and Terence Blanchard's Champion at Opera Theatre of St. Louis, as well as role debuts of Katisha in The Mikado at Lyric Opera of Kansas City and Herodias in Salome at Palm Beach Opera.