About This Event
--
PLEASE RIDESHARE - Parking is limited around the venue. We strongly recommend using rideshare apps like Uber or Lyft for transportation to and from the venue. There is a designated rideshare pick up / drop off location near the entrance for your convenience.

Need an Access Code? Sign up for our newsletter to get new show announcements, exclusive presale codes, rental discounts and more. Sign up HERE.

*Presale codes are usually sent out on Thursdays at 10am as part of our weekly newsletter.
This show currently has no COVID safety requirements for attendees. This is subject to change. If this changes we will be sure to update this page as well as notify all ticket buyers via email.
Artist Info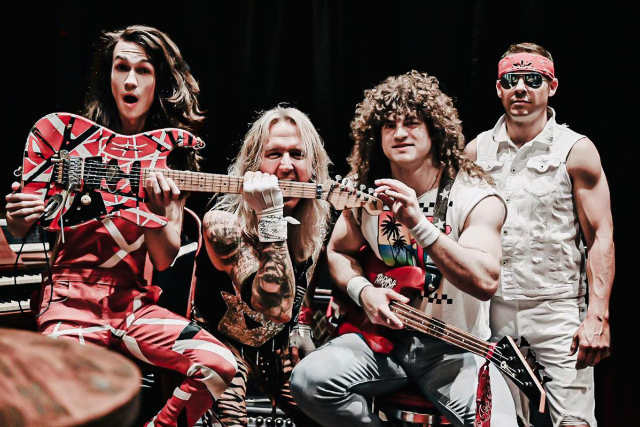 84 - Van Halen Tribute
The Ultimate Van Halen Experience!! 84 has quickly become the region's most sought after Van Halen tribute band.
Faithfully recreating the sound, look, and energy of the original Van Halen lineup (1978-1984), 84 brings a jaw-droppingly authentic, passion filled show to packed venues and sold out crowds throughout the Southeast and beyond. 84's Dave, Eddie, Michael, and Alex work to bring you the most accurate concert experience possible. And it ain't no joke!
Behind this outrageously accurate concert experience, are 4 perfectly synced music professionals with the flawlessly aligned objective of taking each audience back in time to the early days of Van Halen when Rock Music ruled the world, and Van Halen ruled Rock Music. This is no "stay in your lane" performance. Each show is uniquely different and uniquely inspired by the audience out front. Just like the original.
84 covers material from the original self titled album Van Halen (1978) thru their most popular album 1984. You will be on your feet with David Lee Roth era hits like Jump, Panama, Hot For Teacher, Runnin' With the Devil, Ain't Talkin' Bout Love, Eruption, Unchained, You Really Got Me, and many, many more! If your favorite isn't listed, you can be sure you will catch it at a show.
Witness stage chemistry like no other and once again live the experience of your youth when Van Halen was delivering all the glory that was David Lee Roth, Eddie Van Halen, Michael Anthony, and Alex Van Halen. It was PERFECT, and 84 strives to bring that perfection to you.