About This Event
SUGAR: THE NU-METAL PARTY

WAKE UP (WAKE UP)!
IT'S TIME FOR A NU KIND OF 90'S / 00'S DJ NIGHT!

SOMETIMES WE JUST GOTTA BREAK STUFF, EVEN WHEN LIFE IS PEACHY!
THIS ONE'S FOR ALL THE PIMPS, THE FREAKS AND THE MAGGOTS
THAT ARE DREAMIN' TO CELEBRATE THE GOLDEN AGE OF NU METAL!

LET'S SHOVE IT (SHOVE IT, SHOVE IT) TO THE MUSIC OF KORN, DEFTONES, SLIPKNOT, LIMP BIZKIT, LINKIN PARK, RAGE AGAINST THE MACHINE, SYSTEM OF A DOWN, KITTIE, ROB ZOMBIE, STATIC-X AND MORE!

JOIN US IN THE PIT AS WE PARTY IN THE NAME OF THE ORIGINAL FAMILY VALUES TOUR ERA AND THOSE CARRYING ITS TORCH!

GRAB YOUR LEASH...
PACK YOUR CHAINSAW (MF'N CHAINSAW)...
AND COME AND GET IT!

This show is 18+ only.

--
PLEASE RIDESHARE - Parking is limited around the venue. We strongly recommend using rideshare apps like Uber or Lyft for transportation to and from the venue. There is a designated rideshare pick up / drop off location near the entrance for your convenience.

Need an Access Code? Sign up for our newsletter to get new show announcements, exclusive presale codes, rental discounts and more. Sign up HERE.

*Presale codes are usually sent out on Thursdays at 10am as part of our weekly newsletter.
This show currently has no COVID safety requirements for attendees. This is subject to change. If this changes we will be sure to update this page as well as notify all ticket buyers via email.
Artist Info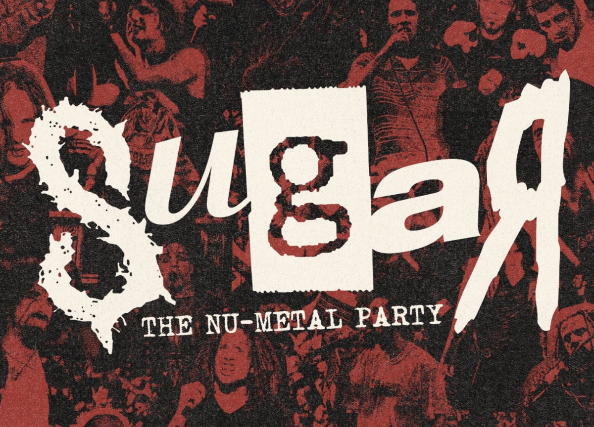 SUGAR: THE NU-METAL PARTY
SUGAR: THE NU-METAL PARTY

WAKE UP (WAKE UP)!
IT'S TIME FOR A NU KIND OF 90'S / 00'S DJ NIGHT!

SOMETIMES WE JUST GOTTA BREAK STUFF, EVEN WHEN LIFE IS PEACHY!
THIS ONE'S FOR ALL THE PIMPS, THE FREAKS AND THE MAGGOTS
THAT ARE DREAMIN' TO CELEBRATE THE GOLDEN AGE OF NU METAL!

LET'S SHOVE IT (SHOVE IT, SHOVE IT) TO THE MUSIC OF KORN, DEFTONES, SLIPKNOT, LIMP BIZKIT, LINKIN PARK, RAGE AGAINST THE MACHINE, SYSTEM OF A DOWN, KITTIE, ROB ZOMBIE, STATIC-X AND MORE!

JOIN US IN THE PIT AS WE PARTY IN THE NAME OF THE ORIGINAL FAMILY VALUES TOUR ERA AND THOSE CARRYING ITS TORCH!

GRAB YOUR LEASH…
PACK YOUR CHAINSAW (MF'N CHAINSAW)…
AND COME AND GET IT!