About This Event
KSSN 96 and 1051 The Wolf Presents
It's back! Get ready to Boot Scoot & Boogie in the new year. Join us for volume 2 of our 90s Country New Year - an epic 90s Country New Year's Eve party featuring Mustache The Band. They'll be performing all of your favorite 90s country tunes all night long from artists like Alan Jackson, Kenny Chesney, Travis Tritt, Tim McGraw, and more. We'll finish off the night with a massive balloon drop at midnight with a special golden balloon inside. [GOLDEN BALLOON = GOLDEN TICKET] If you can snag the golden balloon you'll win 2 tickets per month to any show at The Hall for all of 2024. Giddyup.
Floor - 18+
Mezzanine - 21+
All tickets on the floor & mezzanine are general admission, standing room only. Limited seating will be available on both the floor & mezzanine on a first come, first served basis.
--
PLEASE RIDESHARE - Parking is limited around the venue. We strongly recommend using rideshare apps like Uber or Lyft for transportation to and from the venue. There is a designated rideshare pick up / drop off location near the entrance for your convenience.
This show currently has no COVID safety requirements for attendees. This is subject to change. If this changes we will be sure to update this page as well as notify all ticket buyers via email.
Artist Info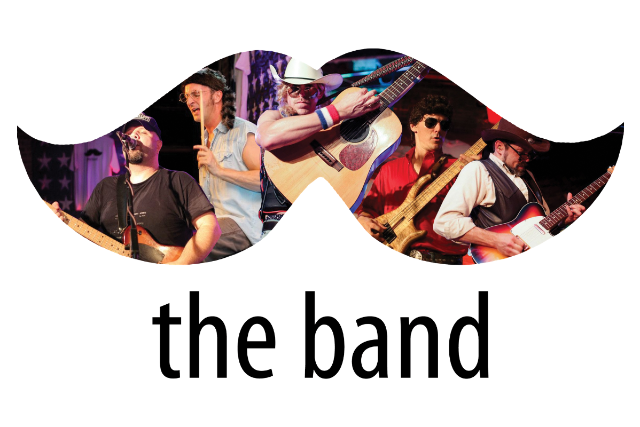 Mustache The Band
THE WORLD'S MOST POWERFUL 90's COUNTRY PARTY BAND
Mustache The Band is the 90's Country Party Band that'll grow on you. Mustache delivers a powerful performance of all of the favorite country hits from the 1990's. With well over 125 songs under their buckles, you are guaranteed to have a non-stop party on your hands.
Mustache The Band will take you on a journey into the 90's... back when sleeveless tanks, high tops, cowboy boots, two paneled button downs, and mustaches ruled country music. In order to set the tone at every show, fans are provided with their very own mustaches to enjoy.
If the crowd is ready to get down on the farm, Mustache The Band will take them there.