About This Event
All tickets on the floor & mezzanine are general admission, standing room only. Limited seating will be available on both the floor & mezzanine on a first come, first served basis.
--
This show currently has no COVID safety requirements for attendees. This is subject to change. If this changes we will be sure to update this page as well as notify all ticket buyers via email.
Artist Info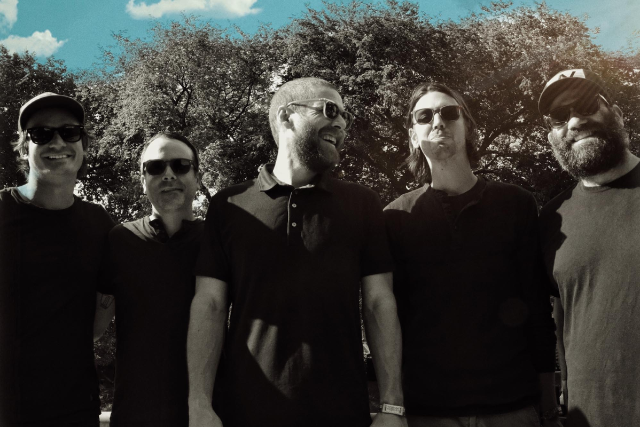 Manchester Orchestra
Centered on the deeply personal, often biographical songs of singer/guitarist Andy Hull, Georgia's Manchester Orchestra are known for their emotive, textured blend of post-hardcore rock. Barely out of high school when they debuted with 2006's I'm Like a Virgin Losing a Child, Manchester Orchestra gained greater recognition with 2009's Mean Everything to Nothing, which cracked the Top 40 of the Billboard album charts. They have continued to mature, embracing a stylistically wide-ranging sound that touches upon everything from acoustic folk balladry to kinetic prog rock, and placing several Top Ten Billboard Rock Albums, including 2011's Simple Math and 2014's Cope. Inspired by their work crafting the soundtrack to 2016's independent film Swiss Army Man, the group has grown increasingly concept driven, a style they brought to fruition with 2017's A Black Mile to the Surface and 2021's The Million Masks of God.
Formed in 2004 in Atlanta, Georgia, Manchester Orchestra grew out of songs that singer/guitarist Andy Hull had begun writing while in high school. Encouraged by positive response, he opted for homeschooling during his senior year, which afforded him enough time to compose and record in the studio. Friends began collaborating with him over time, and Manchester Orchestra soon solidified into a trio comprising Hull, bassist Jonathan Corley, and drummer Jeremiah Edmond. Hull's songwriting noticeably progressed with the addition of his friends, and the band courted its first fans with an EP release. You Brainstorm, I Brainstorm, But Brilliance Needs a Good Editor thus appeared in 2005 through the band's own label, Favorite Gentlemen Recordings. With the EP out, Manchester Orchestra began playing shows around the Southeast and added keyboardist Chris Freeman to the mix. Buzz about the band's music began creating a stir beyond the Atlanta city limits, and the guys were invited to play slots at the South by Southwest and Lollapalooza festivals in 2006 before beginning to work on their full-length album that summer. The resulting I'm Like a Virgin Losing a Child was issued by the year's end, offering up a poignant collection of memorable hooks and thoughtful narratives that showcased a similar style to acts like the Weakerthans and Death Cab for Cutie.
Eventually, studio intern turned guitarist Robert McDowell joined the lineup permanently, and as a steady buzz continued to grow -- especially on Internet blogs -- Manchester Orchestra snagged an opening spot on Brand New's largely sold-out tour in spring 2007. The increased exposure caught the interest of Canvasback Recordings, which reissued the band's debut album that summer. A second EP, Let My Pride Be What's Left Behind, followed in October 2008, and the band remained in the studio during the subsequent months to perfect its sophomore album. Released in 2009, Mean Everything to Nothing found the band working alongside producer Joe Chiccarelli, famous for his work with the Shins and My Morning Jacket.
In 2011, the band released its third full-length studio album, Simple Math, a concept album built around Hull's life story. They then delivered a fourth album, 2014's heavy, post-hardcore-infused Cope. That same year, the band returned with Hope, a companion piece to Cope, featuring reworked, largely acoustic versions of all the album's songs. Hull and McDowell then collaborated on the soundtrack to the 2016 film Swiss Army Man. Consisting entirely of layered vocal tracks, the soundtrack was well received and garnered nominations for Best Original Score for a Comedy Film and Film Music Composition of the Year at the 2016 International Film Music Critics Association Awards.
The following year, Manchester Orchestra returned with their fifth full-length album, A Black Mile to the Surface. Produced with Catherine Marks (Foals, Wolf Alice), the album found the band taking a conceptual, cinematic approach inspired by their work on Swiss Army Man. Buoyed by the singles "The Gold," "The Alien," and "The Moth," the album hit number 33 on the Billboard 200 and reached number seven on the Top Rock Albums chart. A cover of the Avett Brothers' "No Hard Feelings" appeared in 2018, followed in 2020 by the holiday-themed EP Christmas Songs, Vol. 1. A second Marks production, The Million Masks of God, arrived in 2021 and again found the band adopting a conceptual approach as they explored themes of birth, death, and what lies beyond.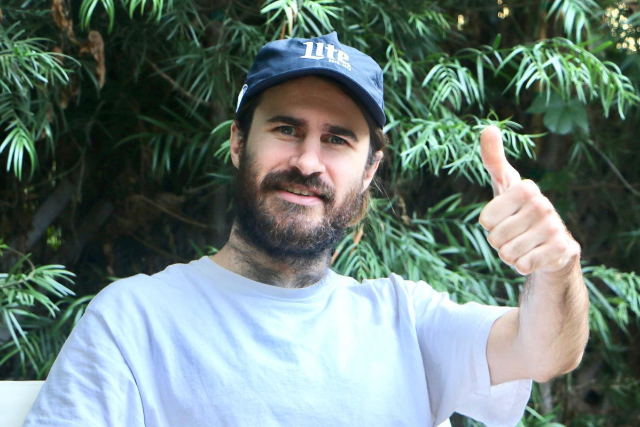 Petey
Petey just wants to make stuff.
"If I can wake up every day for the rest of my life and make something new, that's all I could ever ask for," he explains "it's the only goal I've got."
Take a listen to Lean Into Life, Petey's exhilarating full-length debut, and you'll start to get the picture. Recorded in his adopted hometown of Los Angeles, the album is explosive and cathartic, with moments of aching honesty and probing self-examination giving way to biting wit and joyful exuberance amidst a sea of arpeggiated synthesizers, distorted guitars, and shouted vocals. Is it indie rock? Punk? Electro-pop? Emo? Sure, but if you're getting hung up on what to call it, then you've already missed the point. Lean Into Life is about release over analysis, about transcendence over fixation. That's not to say that the writing isn't deeply introspective—in fact, Petey's lyrics are often unflinchingly candid as he grapples with depression, anxiety, masculinity, and heartbreak—but rather that it's the message not the medium that matters. Each video Petey posts to TikTok (where his absurdist alt-comedy sketches have already amassed nearly 100 million views) takes place in its own little universe, just as each track on the album is its own emotional snapshot with its own framework and context. Taken as a whole, though, all those little moments add up to something profound and cohesive, a raw, insightful meditation on the ways that tiny, incremental changes can lead to seismic transformation.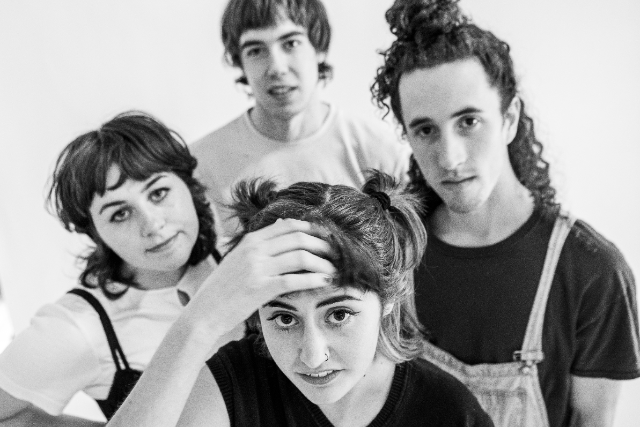 Lunar Vacation
Atlanta-based Lunar Vacation formed the week that lead singer, guitarist, and songwriter Grace Repasky and guitarist Maggie Geeslin were old enough to drive to each other's houses. In 2016, Repasky had begun to devote her summer hours to writing songs, which she sent to Geeslin, her classmate. The two decided to form a band that could channel the spirit of their diy-scene garage-rock idols with a chill edge. Soon enough, the girls found some older kids- including current drummer Connor Dowd and former member John Michael Young- to help their songs develop and translate to a live setting. The teens played just about every week in Atlanta for two years, eventually making their way to neighboring states on the weekend. The group decided to add keys as a staple to their sound, recruiting Matteo DeLurgio to elevate the songwriting. Determined to keep the music alive while attending college, Lunar Vacation took classes and toured while they could, taking support tours and selling out headlining shows across the U.S., all with just two self-released EPs under their belt. The four piece is currently recording their debut LP, set to release in 2020. -from Hometown-Talent.com